Microarray analysis of gene expression during the cell cycle
Received: 12 August 2003
Accepted: 19 September 2003
Published: 19 September 2003
Abstract
Microarrays have been applied to the determination of genome-wide expression patterns during the cell cycle of a number of different cells. Both eukaryotic and prokaryotic cells have been studied using whole-culture and selective synchronization methods. The published microarray data on yeast, mammalian, and bacterial cells have been uniformly interpreted as indicating that a large number of genes are expressed in a cell-cycle-dependent manner. These conclusions are reconsidered using explicit criteria for synchronization and precise criteria for identifying gene expression patterns during the cell cycle. The conclusions regarding cell-cycle-dependent gene expression based on microarray analysis are weakened by arguably problematic choices for synchronization methodology (e.g., whole-culture methods that do not synchronize cells) and questionable statistical rigor for identifying cell-cycle-dependent gene expression. Because of the uncertainties in synchrony methodology, as well as uncertainties in microarray analysis, one should be somewhat skeptical of claims that there are a large number of genes expressed in a cell-cycle-dependent manner.
Keywords
Double thymidine blockAffymetrix, cell cycle, synchronization, nocodazole, yeast, HeLa
Introduction
Classical experimental methods have led to the widely held belief that many genes are expressed in a cell-cycle-specific manner. Microarrays have now been utilized to study the global extent of cycle-specific gene expression in eukaryotes and prokaryotes in order to obtain a complete picture of the pattern of gene expression between the birth of a cell and a subsequent division.
A number of groups have studied gene expression during the division cycle by synchronizing cells, removing cells at different times following the initiation of synchronous growth, and analyzing the mRNA contents of these cells using microarray technology. Periodic variations in mRNA concentration, coincident with the length of the cell cycle, are taken as an indication that a particular gene is regulated as a function of the cell cycle.
In addition to the pre-existing experimental basis for the expectation that a large number of genes would be regulated in a cell-cycle-specific manner, it has also been suggested that cell-cycle-dependent regulatory systems are an efficient way for the cell to organize gene expression [1]. Producing gene products (i.e., mRNAs, enzymes, proteins) primarily when they are used or needed would be a better utilization of resources; that is, resources are not made until they are required for use.
We now review the recent spate of microarray experiments on gene expression from a variety of eukaryotic and prokaryotic systems.
Criteria for a successful experiment
Two important groups of criteria must be satisfied to have a successful synchrony/microarray experiment. First, the cells must be synchronized. Second, there must be a method that is able to pick out of the mass of data points those genes that exhibit a periodic expression pattern reflecting gene expression during the normal division cycle. By "normal" we refer to an unperturbed cell growing in unlimited medium and dividing to produce two daughter cells each then repeating the cell cycle.
It is widely believed that there are numerous whole-culture methods that can arrest cells at particular points in the cell cycle. Whole-culture methods (also called "batch" methods or "forcing" methods) are those that take an entire culture of growing cells, and produce a synchronized culture from all cells. The use of whole-culture methods for synchronization has been challenged on theoretical [2–7] and experimental grounds [8–11]. In summary, it is proposed that whole-culture methods cannot synchronize cells. These whole-culture methods may align cells so that cells exhibit a common property (e.g., all cells have a similar DNA content). But such an alignment does not mean these cells are arrested at a particular cell age nor does it mean that the cells released from this alignment are synchronized.
In addition to synchronization problems, identifying cyclical gene expression is difficult because of the large amount of data produced by microarray experiments. When a large number of genes are analyzed (sometimes up to 40,000 sequences can be studied in a single experiment), it is expected that some cyclical patterns will be found merely as a result of random noise and experimental variation [12]. Statistical analysis must be used in order to glean biologically significant results. Merely finding that a gene is cyclically expressed in a small number of experiments is insufficient to demonstrate that the gene will exhibit a reproducible cyclicity of its expression in normal, unperturbed cell growth.
One problem with microarray analysis is that the expense of the method leads to major conclusions that are based on few replicate experiments. Sometimes only one experiment is performed. This absence of evidence of reproducibility of results makes it difficult to evaluate the conclusions of some experiments.
Both the synchrony and microarray aspects of cell-cycle experiments must be considered in order to decide that a particular experiment satisfies rigorous criteria for a well-performed experiment. For synchronized cells (i.e., cells that are cell-cycle-age aligned and are expected to pass through the cell cycle as a unified and coherent cohort) the synchronization method should actually synchronize the cells. Criteria for synchronization are listed in Appendix 1 [
additional file 1
]. Fig.
1
is a diagrammatic illustration of some of the relevant criteria. Once cells are synchronized, gene expression measurements as the cells pass through the cell cycle should yield reliable data that satisfy rigorous statistical tests (Appendix 2 [
additional file 2
]).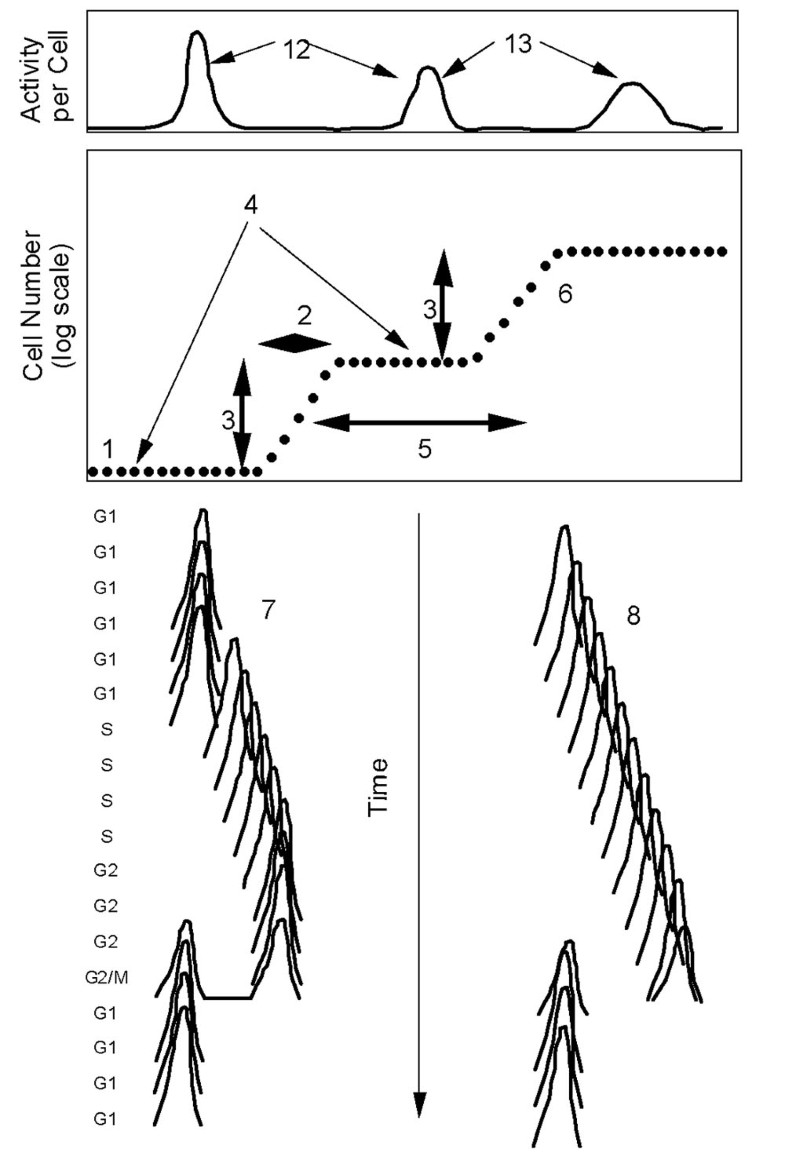 A caveat
Part of the impetus for this analysis of microarray experiments (besides the desire to summarize a rapidly growing field of experimental endeavor) is a model of the cell cycle that takes issue with the current and dominant view of cell-cycle control. This alternative view of the cell cycle takes issue with such well-accepted ideas as the existence of a G0 phase, G1-phase arrest points, the restriction point, G1-phase specifically expressed genes, and related aspects of cell-cycle progression [2–4, 6, 7, 9, 13–21]. Most important for the analysis of synchronization experiments, this alternative view takes issue with the ability of whole-culture methods to synchronize cells.
Whole-culture synchronization and cell-cycle analysis
The dominant approach to cell synchronization is to starve or inhibit all the cells in a culture cells to "arrest" cells at a particular point in the cell cycle. This whole-culture synchronization of an exponential culture is believed to produce a cohort of cells that all have or reflect a common cell age. If one could starve or inhibit cells and arrest cells at a particular cell age, then release of these arrested cells would lead to synchronized growth as cells move from the arrest point through the cell cycle.
Despite hundreds or even thousands of papers that use whole-culture methods to synchronize cells, available evidence [8–11] and theoretical considerations [2–7] indicate that these methods cannot synchronize cells. We will point out where whole-culture synchronization has been used. More important, we will note when evidence of synchronization is present and when it is absent, and also when the evidence indicates cells are not synchronized.
In addition to the proposal that whole-culture synchronization does not synchronize cells, there is the ever-present problem of introducing perturbations and artifacts that will obscure the normal pattern of gene expression during the cell cycle. What do we mean by "artifacts"? Let us consider a Gedanken experiment where we are given a cell that specifically did not have any cell-cycle-specifically-expressed genes. If following a synchronization experiment cycle-dependent patterns were found, we would describe those patterns as artifacticious products of the synchronization method. These cyclic patterns would not reflect the "normal" cell cycle as defined above. Many papers on gene expression during the cell cycle explicitly express the expectation that there exist a large number of cyclically expressed genes. Therefore, when numerous cyclicities are found, this is taken as a confirmation of the original premise. However, if artifacts are introduced by the synchronization methodology, observed cyclicities will not support the proposal that there are cyclically-expressed genes. Merely finding periodicities after a proposed "synchronization" procedure does not mean that an observed cyclical gene expression pattern accurately reflects the normal pattern of gene expression. Neither does this cyclicity prove that the cells were synchronized.
We realize that this view of whole-culture synchronization methods is a minority viewpoint. The vast majority of researchers in cell biology accept whole-culture treatments as a valid approach to synchronization. We can merely point out the following in support of this critique of whole-culture synchronization:
• The theoretical arguments against whole-culture synchronization approaches have never been answered or refuted.
• The experimental critiques against whole-culture synchronization have not been answered or refuted.
• A minority viewpoint may very well be the correct viewpoint, as scientific truth is not determined by majority vote.
• It is not argued that synchronization is not possible; it is argued that only by selective methods can one get a truly synchronized culture (see next section).
• The criteria listed in Appendix 1 are rarely considered when synchronization methods are used or proposed. While these criteria may be rigorous, we feel that precise and formalized criteria to determine whether a method has truly synchronized a group of cells are to be preferred to flexible and ad hoc criteria.
Selective methods of eukaryotic synchronization
Selective synchronization methods are those methods where a subset of cells – with a narrow cell-age distribution – are removed from a growing culture. These selected cells, in theory and occasionally in practice, can produce a synchronized culture. Some studies have used selective methods such as mitotic shake-off to produce a synchronized culture. In theory this approach can produce a synchronized culture. But in practice the synchrony (for eukaryotic cells) is neither sharp nor clear. In one published example [22] the rise time for initiation of S phase in such mitotically selected cells is spread over 10 hours.
Elutriation and other hydrodynamic methods have been used to select cells of a particular "size". It is believed that such a selection can produce cells of a particular cell-cycle age and thus produce a synchronized culture. But hydrodynamic methods select cells on the basis of sedimentation coefficient. The sedimentation coefficient is dependent on both size and shape. A large-sized cell with a diffuse shape may be selected along with small-sized cells of compact shape as they could both have the same sedimentation coefficient. Thus it is not clear that such physical methods of cell separation can lead to a well-synchronized culture. While elutriated cells may have a uniform DNA content, it is not clear that these cells divide so synchronously as to provide an adequate synchronized culture (see Appendix 1).
The recent development of a eukaryotic membrane-elution system ("baby-machine") has now produced a new "gold standard" against which other methods can be judged (See Appendix 1 for synchronization criteria). Newborn cells eluted from the membrane-elution apparatus exhibit at least three well-defined cell cycles whose length is equivalent to the doubling time of growing cells. The rise time during division is very short. Furthermore, these eluted cells show the proper DNA contents as well as the expected cell size distributions during three cycles of synchronous growth. Most important, these eluted cells were never subjected to any perturbing influences [8, 23, 24]. In comparison with mitotic selection methods, the cells eluted from the membrane-elution apparatus have a rise time for the period of cell division of approximately two hours. In comparison with this new "gold standard" for synchronization, we see that even mitotically selected cells have only a modest synchrony. The reason for the success of membrane-elution is that cells are selected for precisely the property desired; cells are selected at their time of birth, and all cells thus have the same initial cell-cycle age.
Microarray analyses of the cell cycle
The experiments described below have a common and simple approach. Cells are synchronized by a variety of procedures depending on cell type and available methods. The synchronized cells are sampled at various times during the presumed passage through the cell cycle. Gene expression is then analyzed by large-scale microarray systems that measure the relative or absolute concentration of individual mRNA species. The microarray data are then analyzed using either visual or statistical methods (see Appendix 2 in order to determine which genes are expressed in a periodic fashion during passage through the cell cycle.
General comments on cell-cycle analysis using microarrays
Non-synchrony approaches to cell-cycle gene expression
Lest it be thought that the only approach to cell-cycle analysis is synchronization, we point out that non-synchrony approaches are equally valid and generally to be preferred. For example, if an unperturbed cell culture is separated out by cell size, and the expression of genes is measured as a function of cell size, one can get an idea of which genes vary in expression during the cell cycle [5, 16].
Rationalizations, expectations, and interpretations
The finding of a large number of cyclically expressed genes by various groups has been welcomed because this finding fits the widely stated expectations of the field of cell-cycle studies. This expectation has been explicitly described by analogy with building a large structure [1]. As the story goes, it is not a good idea to have all the materials present at the start of the building process. Rather it is more efficient or better to have the materials delivered when they are needed. From this point of view [1] it is best for the cell to make the needed material when it is about to be used. Thus, one would expect that the genes for initiation of DNA replication would be made at the end of the G1 phase, just in time for initiation of S phase. And the genes for products involved in mitosis would also be made near or at the time of mitosis.
A good explanation for a biological phenomenon explains that phenomenon in terms of efficiency and logical order. Thus, the classic story of the inducibility of β-galactosidase is told as an efficiency story, with the cell only making the enzyme when it is needed. If the enzyme were made all the time, the cell would be inefficient in an environment devoid of the substrates of the enzyme.
In contrast to the enzyme-induction story, the cell-cycle gene-expression story is not based on as rigorous an empirical foundation. And that is the point we wish to make here. Most of the articles on the use of microarrays start out with the assumption that there are many cyclically expressed genes, and it is the job of the microarray user to identify these genes. We propose that both possibilities should be considered – that there are many and there are few or no cell-cycle regulated genes – in order to approach the data without a preconceived idea as to the nature of the cell cycle.
We hope that the apparently unrelenting negative tone of this review of microarray analyses of gene expression during the division cycle serves as a wake-up call to rethink the current view of the cell cycle. There are problems with the synchronization of cells [3, 4, 6, 8, 9]. There are problems with the statistical analysis of microarray data [10–12]. Until both of these areas are dealt with, the mass of data emanating from these studies will be only that – data – and will not have any meaning for our understanding of the regulation of gene expression during the cell cycle. Finally, we suggest that true synchronization methods and a more broadly considered interpretation of the results and extent of cycle-specific gene expression [4, 20, 21] will lead to better experiments and more accurate results.
Authors' Affiliations
(1)
Department of Microbiology and Immunology, University of Michigan Medical School, Ann Arbor Michigan, USA
(2)
Department of Statistics, University of Michigan, Ann Arbor Michigan, USA
Copyright
© Cooper and Shedden; licensee BioMed Central Ltd. 2003
This article is published under license to BioMed Central Ltd. This is an Open Access article: verbatim copying and redistribution of this article are permitted in all media for any purpose, provided this notice is preserved along with the article's original URL.